When buying outdoor furniture, there are many determining factors to consider. Is it soft and comfy? Will it stand the test of time? Does it serve its purpose? Were the raw materials ethically sourced and manufactured sustainably? The list goes on but the answers may be put on hold at some point.
Because the reality is, when it comes to buying, say, that sleek teak outdoor furniture you've always had your eye on, you'll only know if it's truly worth the investment after your card has been swiped and that piece has been sitting in your living room for a long time.
That is why it pays to educate yourself on everything you need to know before buying outdoor furniture. In this article, we discuss one of the 3 F's that matter when buying outdoor furniture – Fabric.
We at Design Concepts value the importance of partnering with brands that we trust. When it comes to sourcing the right fabric for use in our furniture, there is no substitute for quality. Sunbrella is a type of fabric that is resistant to the harsh NZ weather & UV rays. We go beyond the aesthetics and dive into the fabrics proven performance to withstand the country's different marine and land environments in varying weather conditions. We share in Sunbrella's commitment to the environment, functional statement, and innovative approach.
All you ever needed to know about Design Concept's outdoor furniture using Sunbrella fabric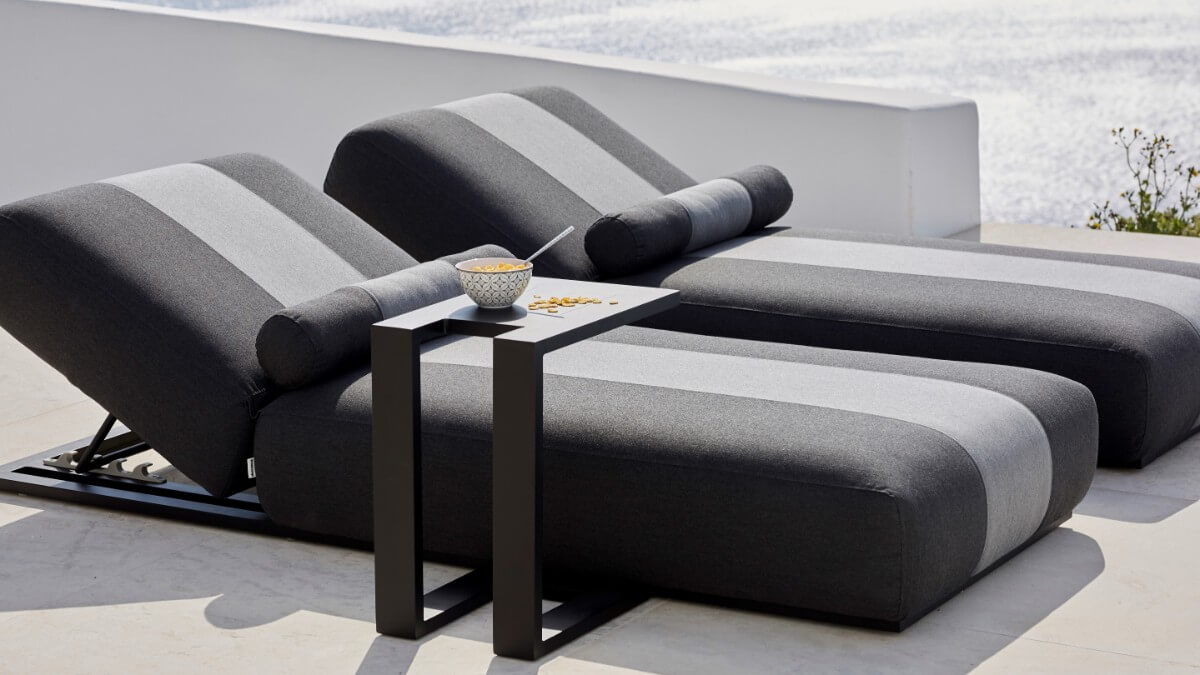 Latest outdoor furniture industry news
With the latest trends, 2019 is all about furniture manufactured with mixed materials. More homeowners are gearing towards following the old but gold idea of blurring the lines between indoor and outdoor furniture. One of the best parts of using Sunbrella fabric in our furniture is that it allows for maximum functional flexibility depending on your needs.
All eyes are on eco-conscious outdoor furniture designs this year. When the question of environmental impact comes up in conversations about furniture, people are often quick to point the finger at material selection. Whilst using sustainable materials that are produced with cutting edge technology is definitely an important part of producing eco-conscious furniture, buying quality pieces that are made to last is just as, if not, more important in the long run.
"Whilst it might seem like a nice idea to replace your furniture regularly in the same way that you would dispose of a toothbrush, it's important to consider the social and environmental cost of such actions… By investing in furniture that is made to last, not only do you end up getting a better quality item, but it also reduces your impact on the environment by preventing waste going into landfill."
In other words, simply replacing your furniture less often (through buying great quality in the first place) is an effective way to reduce your environmental impact.
We stand by Sunbrella's belief that textiles are the most important ingredient in exceptional design, comfort, and living. It's also worth noting Sunbrella's sustainable commitment to the environment by transforming fabric waste into a sustainable new fabric with the Sunbrella Renaissance program.
In 2010, they initiated the Recycle My Sunbrella program that allowed domestic consumers to participate in their recycling process. The success of this program has led to 600,000 pounds of fabric being recycled. Check out more about their programs and environmental certifications on their site.
Design and unparalleled performance to suit your lifestyle
That's what we are all about: stunning aesthetics, budget, and legendary durability that you can trust. We never compromise. We take pride in using Sunbrella fabric as it is UV, fade, mold, and mildew resistant and bleach cleanable – colour goes to the core of Sunbrella fabrics.
Brush off the loose dirt. Don't wait to tackle stains and spills.
Make your own cleaning solution made with water and mild soap.
Use soft bristles to clean the fabric of your outdoor furniture.
Let the cleaning solution soak onto the fabric.
Rinse off.
Alternatively, you can use the 303 Fabric Guard to protect and strengthen your outdoor furniture's fabric, and restore lost water and oil repellency for your outdoor fabrics.
Here's a helpful guide on how to handle most of the stubborn stains we can think of. If you have kids, stick to cleaning with vinegar and water or substitute with an organic dishwashing soap with USDA certified organic label as proof.
Warranty
We take quality seriously. But don't worry, we are big believers that high quality should not equate to huge costs. That's what Design Concepts is all about – designer quality at an affordable price tag. To find out more about our warranty, you can check it out here or get in touch with us to have a chat!
Design Concepts is an outdoor furniture company based in Takapuna, Auckland. We import high-end outdoor furniture that's made to look great, feel great and stand the test of time.