Your complete Guide to the Effective Care and Maintenance of your Outdoor Furniture
At Design Concepts we take great pride in selling high quality outdoor furniture that rivals that of design stores, but without the price tag – as we say in some of ads, Parnell quality at Takapuna prices! We use the best materials available across all our furniture, which includes the use of Sunbrella fabric and premium teak on our wooden furniture. 
Top Quality Materials, for longevity.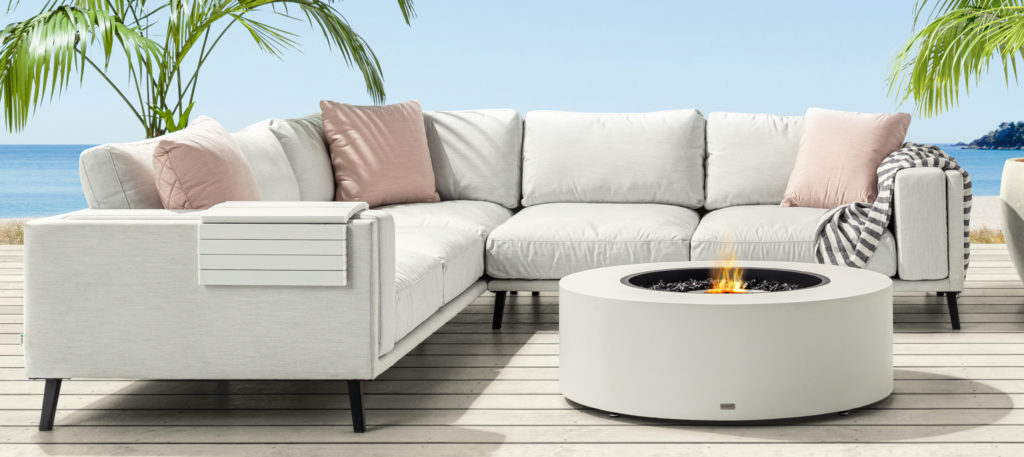 Our products are high quality, European manufactured and come with excellent warranties. With our commercial outdoor furniture, you can be sure that you are getting the best quality furniture made from the best materials. We use A-Grade Teak, 316 stainless steel, aluminium, rope, Sunbrella® fabrics and more.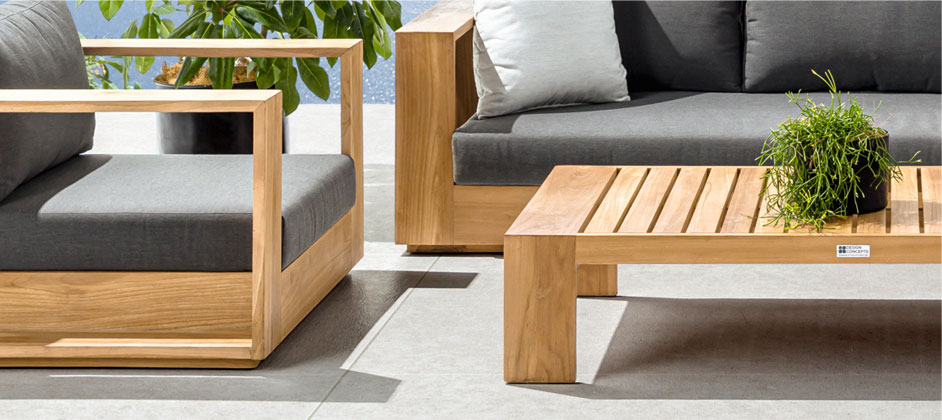 We use Grade A teak for its superior quality, durability, and natural resistance to weathering, pests, and rot. It requires minimal maintenance, offers timeless beauty with its ageing patina, and provides versatility in design. A preferred choice for long-lasting and aesthetically pleasing outdoor furniture.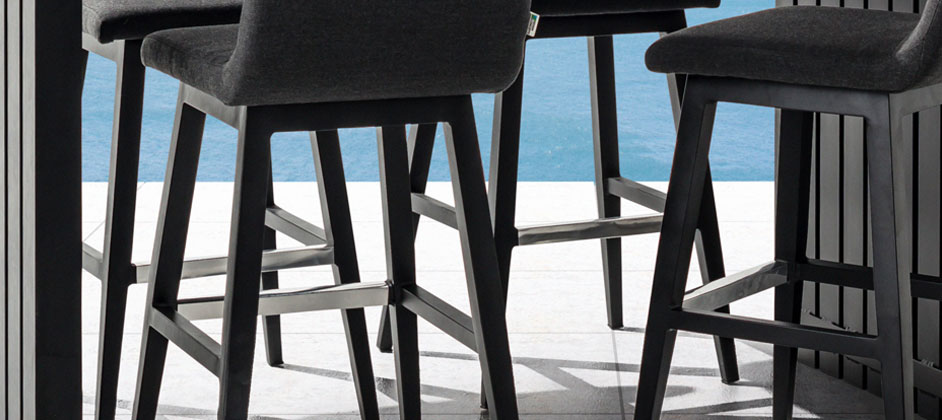 We use 316 stainless steel for its exceptional corrosion resistance, even in harsh environments. It offers superior durability, strength, and low maintenance requirements. Ideal for outdoor furniture, architectural applications, and marine environments where protection against corrosion is crucial for long-lasting and reliable performance.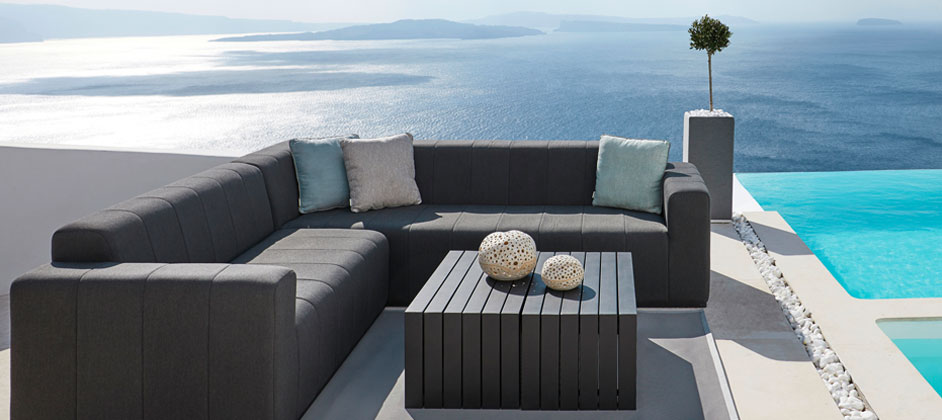 We use Sunbrella fabric for its outstanding durability and resistance to fading, stains, and mildew. It offers UV protection and maintains its vibrant colours even in harsh sunlight. With easy maintenance and a wide range of design options, Sunbrella fabric is ideal for outdoor furniture, cushions, and umbrellas.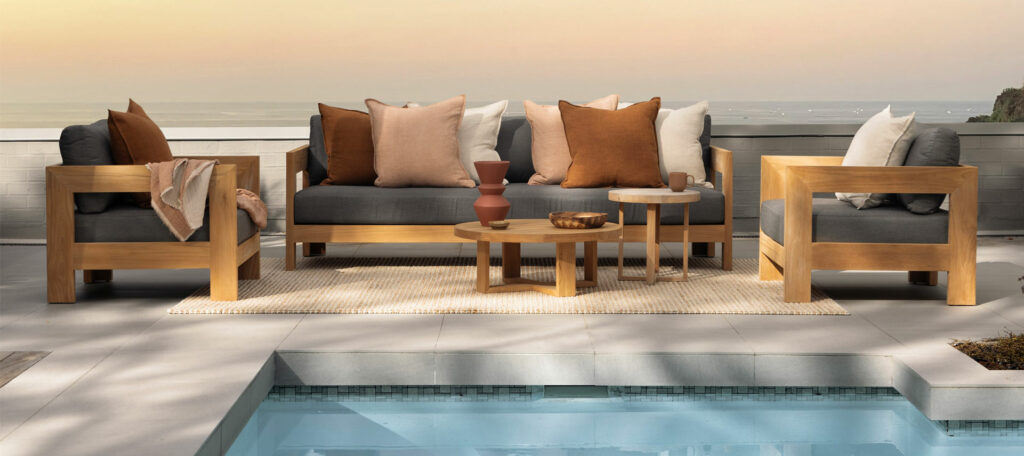 To ensure your teak outdoor furniture maintains its beauty and longevity, follow these essential care steps. Firstly, regularly clean the furniture using a mild soap solution and a soft brush to remove dirt and grime. Avoid using harsh chemicals or pressure washers that could damage the wood. Secondly, apply our Golden Care Teak protector annually to protect it from weathering and UV rays. This will maintain the natural colour and prevent graying. Lastly, avoid placing hot items directly on the teak surface to prevent damage. Regular care will preserve its charm for years to come but remember that the teak colour will naturally change over time and this is part of its appeal.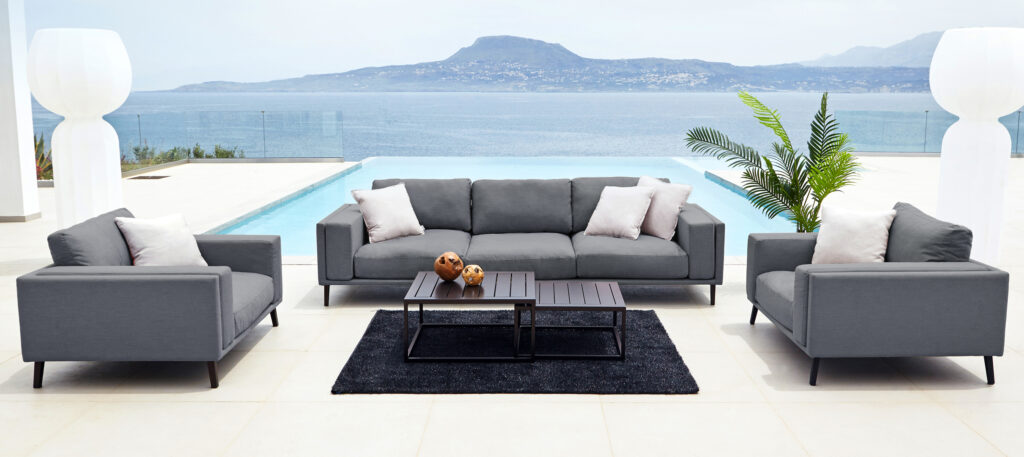 Caring for Sunbrella fabric is simple and effective. Regularly brush off dirt and debris to prevent accumulation. For spills or stains, promptly clean with a mixture of mild soap and water. For tougher stains, use a mild fabric cleaner. Avoid using bleach or harsh chemicals. Machine wash with cold water and air dry when necessary. Do not iron or dry clean Sunbrella fabric. To extend its lifespan, store cushions and fabric in a dry, ventilated area during off-seasons. Sunbrella's fade-resistant properties will ensure long-lasting vibrancy, but keeping it clean and sheltered will guarantee optimal performance and beauty for years to come.To extend the life of your Sunbrella fabric we recommend applying Sunbrella 303 Fabric Guard each year to maintain its water and stain repellency.
Design Concepts is very confident about the quality of the goods we sell. At all times, your rights under the Consumer Guarantees Act applies. We guarantee furniture manufactured by Design Concepts under the general terms of our limited two-year Warranty. This Warranty covers outdoor furniture manufactured by Design Concepts and made with materials including but not limited to; lightweight concrete, 316 stainless steel, A-Grade teak, powder-coated aluminium and other materials carried in our outdoor product portfolio. For more detailed information refer to our online warranty page.


We 100% stand behind our products. Design Concepts warrants to the original purchaser, that our furniture and its components are free of defects in material and workmanship. If you find a defect in material or workmanship, we will, at our option, repair or replace the defective components at no cost to you. If you receive an item that is defective, please contact us upon receipt of the goods so we may exchange the item for its exact replacement. Items damaged in transit need to be reported to us upon receipt of delivery.


That being said, our warranties are not all inclusive to all types of damage. Items damaged by you are non-returnable. We do not replace items damaged by the consumer; however, we are available to help and repair your product, if repairable. Design Concepts reserves the right to repair or replace any piece that is covered under the terms of this Warranty. Repair or replacement may involve Design Concepts providing parts directly to our customer where applicable and, at our expense, we will supply any replacement parts in cases where the Customer can easily make the repair. 
In no event shall Design Concepts be liable for incidental or consequential damages resulting from the use of the product. The Warranty does not cover defects or damage caused by:
Improper assembly
Modifications after purchase
Intentional damage, accident, misuse, abuse, or negligence
Normal wear and tear which includes weathering and damage that was a direct effect of weather-related conditions – for instance, product fading is an inevitable part of outdoor furniture use in New Zealand conditions and therefore we do not make any guarantees regarding colour-fastness other than specifically mentioned. To minimise fading we use the best products available
We use A grade teak but as a natural wooden product it will have imperfections or inconsistencies within it.  Please note that "Defects" are defined as imperfections that impair the use of your furniture and that our Warranty does not apply to any cases of normal wear and tear of the furniture. Normal wear and tear is defined as "the normal deterioration caused by regular use of the furniture." If you see "Checking" or small cracking of the teak wood, this is a normal and natural occurrence that should be expected. Your Warranty does not extend to the natural patina of the teak wood or any other discolouration.
We're always here to help and assist our customers. As an independent, family-owned, local company, customer care and support is vital to our continued growth. If you're not sure about how to care for our outdoor furniture or you have some concerns then please contact us via the form below and attach any pictures you may help that you think might help us.